There is an alternative. Experiences of radical thinking and pragmatic action in Northern Basque Country
There is an alternative. Expériences de la pensée radicale et de l'agir pragmatique au Pays Basque Nord
These last years, we observe a multiplication of alternative initiatives that create"here" and "now" local solutions to citizen claims in the interstices of liberal democracies. This phenomenon challenges all the discourses that declare the end of militant commitment as well as the famous formula of Margaret Thatcher "There is no alternative." Due to the blockage of the classical forms of activism, this type of experience is growing up all around the world, being particularly successful in the Northern Basque Country. This thesis aims to understand, by studying the case of the Northern Basque Country, the motivations of individuals for creating alternative organisations.The field research is based on a sociological intervention that was performed in three phases. Five groups of around ten leaders and founders of alternative organizations of the territory were created. These groups were regularly gathered, every two weeks, during three to five months, in meeting sessions of one to five hours. In addition, some supplementary in-depth interviews raise the field research near to a hundred hours of collect and a thousand pages of transcriptions. Supporting actors in the self-analysis of their own practices, based on their testimonies, allowed us to elaborate explanatory proposals. The study reached to model transversal logic of action despite the organizational, generational and geographical difference of participants. This sociology of practices in alternative activism particularly deals with commitment genesis, representations of activism forms, perception of the field of possibilities, experience of resort to building alternatives, and also explains the dynamics of the normalization that alternative organizations cause as they produce social movement.
Desde algunos años, asistimos a la multiplicación de iniciativas alternativas que construyen "aquí" y "ahora", entre los intersticios de las democracias liberales, soluciones locales a las reivindicaciones ciudadanas. Este fenómeno cuestiona todos los discursos que decretan el fin de los compromisos militantes y la famosa formula de Margaret Thatcher "There is no alternative.". Frente al bloqueo de las formas de movilización políticas clásicas, este tipo de experiencias se están desarrollando en todo el mundo, y particularmente en el País Vasco Norte, en el cual constatamos un éxito significativo. A partir del caso del País Vasco Norte, esta tesis doctoral tiene por objetivo comprender las razones por las cuales los individuos se comprometen a crear organizaciones alternativas.La investigación de campo consiste en una intervención sociológica llevada a cabo en tres fases, con cinco grupos de una decena de dirigentes y fundadores de organizaciones alternativas del territorio. Estos grupos fueron reunidos regularmente, cada dos semanas, durante tres a cinco meses, en sesiones de una hasta más de cinco horas. Además, se realizaron algunas entrevistas de profundización adicionales. Resultaron cerca de cien horas de colecta y mil hojas de transcripciones. Partiendo de testimonios sobre sus experiencias, el acompañamiento de los actores en el autoanálisis de sus propias practicas ha permitido desarrollar propuestas explicativas que modelizan lógicas de acción transversales a la diversidad organizativa, generacional y geográfica de los participantes. Esta sociología de prácticas militantes alternativas se centra particularmente en la génesis de los compromisos, las representaciones de formas de militantismo, la percepción del campo de posibilidades, la experiencia del recurso a la construcción de alternativas, pero también investiga las dinámicas de normalización que las organizaciones provocan a medida que producen un movimiento social.
Azken urte hauetan, demokrazia liberalen zirrikituetan, herri aldarrikapenentzako aterabide lokalak "hemen" eta "orain" eraikitzen dituzten iniziatiba alternatiboak biderkatu dira. Tendentzia honek zalantzan jartzen ditu bai engainamendu militanteen bukaera dekretatzen dituzten diskurtsoak, bai eta Margaret Thatcher-ek asmatutako "There is no alternative." formula famatua ere. Praktika militante klasikoen oztopoen aitzinean, esperientzia mota hauek mundu osoan zehar garatzen ari dira, Ipar Euskal Herria kasu nabarmenetariko bat izanik. Bertan, praktika hauek jasotako arrakasta adierazgarria da. Ipar Euskal Herria adibidetzat harturik, tesi honen xedea, alternatiben eraikuntzan engaiatzen diren indibiduoen arrazoiak ulertzea da.Inkesta interbentzio soziologiko baten bitartez egina izan da. Lurraldeko erakunde alternatiboen zuzendariz eta sortzaileez osatutako bost talde eratu dira. Taldeak bi astetik behin bildu dira, hiru-bost hilabetez. Bilkurek ordu bat eta bost ordu arteko iraupena izan dute. Horrez gain, elkarrizketa sakon batzuk gehitu dira. Orotara, kasik ehun orduko eta mila transkripzio-orrialdeko inkesta eratu da. Esperientzia testigantzetatik abiatuta, eragileak haien praktika propioen autoanalisira bultzatu dira. Horri esker, parte hartzaileen erakunde, belaunaldi eta lurralde-jatorri aniztasunetik at, zonbait azalpen proposatu dira ekintza-logika transbertsalak modelizatuz. Zehazki, praktika militante alternatiboen soziologia honetan, engainamenduen sortzea, militantismo mota ezberdinen errepresentazioa, aukera-eremuen pertzepzioa eta alternatiben eraikuntzak dakarren esperientzia aztertu dira. Mugimendu soziala eragiten duten heinean, erakunde alternatiboek sortzen dituzten normalizazio dinamikak ere ikertu dira.
Depuis quelques années, nous assistons à la multiplication d'initiatives alternatives qui construisent « ici » et « maintenant » des solutions locales à des revendications citoyennes dans les interstices des démocraties libérales renvoyant ainsi dos à dos les discours décrétant la fin des engagements militants et la désormais célèbre formule de Margaret Thatcher « There is no alternative. ». Face aux blocages des formes de mobilisations politiques classiques, ce type d'expériences se développe partout dans le monde, et tout particulièrement au Pays Basque Nord où l'on constate un engouement significatif. Cette thèse vise ainsi à comprendre, à partir du cas du Pays Basque Nord, les raisons pour lesquelles des individus s'engagent dans la création d'organisations alternatives.L'enquête de terrain repose sur une intervention sociologique menée en trois phases comptant cinq groupes d'une dizaine de dirigeants et fondateurs d'organisations alternatives du territoire, réunis régulièrement tous les quinze jours durant trois à cinq mois, lors de séances d'une heure trente à plus de cinq heures. En complément, plusieurs entretiens d'approfondissement portent l'enquête de terrain à près de cent heures de collecte et mille pages de transcriptions. À partir de témoignages sur les expériences vécues, l'accompagnement des acteurs dans l'autoanalyse de leurs pratiques a permis de dégager des propositions explicatives modélisant des logiques d'actions transversales à la diversité organisationnelle, générationnelle et géographique des participants. Cette sociologie des pratiques militantes alternatives porte tout particulièrement sur la genèse des engagements, les représentations des formes de militantisme, la perception du champ des possibles, l'expérience du recours à la construction d'alternatives, mais aussi les dynamiques de normalisation que les organisations provoquent à mesure qu'elles produisent un mouvement social.
Fichier principal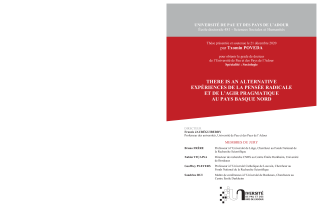 TheseTxominPOVEDAversiondefinitive.pdf (11.12 Mo)
Télécharger le fichier
Origin : Files produced by the author(s)