Jon Miranderen haur besoetakoa (1970) modernitate ukatua
Haur besoetakoa (1970), la modernité littéraire niée de l'écrivain Jon Mirande
modernitate ukatua
This thesis characterizes the literary modernity of the Basque writer the Parisian writer Jon Mirande (H) aur besoetakoa, with the aim of determining the place (s) of this literary work in the history and history of the Basque literature.
Tesi honetan Jon Mirande euskal idazle paristarraren (H)aur besoetakoa-ren modernitate literarioa ezaugarritu da, literatur lan honen lekua(k) euskal literaturaren historian zein d(ir)en zehazteko helburuarekin. Horretarako, tesiaren oinarri teorikoetan literatur modernitatetzat jotzen dena zehaztu eta honek zentsurarekin betidanik duen harreman estua azaleratu ostean, hiru bide jorratu dira: batetik, Miranderen ipuin-berria kanon bilakatu den XIX. mende amaierako eta XX.aren hastapeneko literatur Modernismoaren ezaugarri zenbaitekin konparatu da, testuak genealogia horrekikoduen harremana zertan den ulertzeko; bestetik, garaiko euskal literaturaren testuingurura eraman da konparaketa, ipuin-berriak aurreko euskal literaturarekiko zuen distantzia/hurbiltasuna aztertzeko; eta, azkenik, literatur lanaren harreraren bilakaera zer nolakoa izan den ikertu da, idatzia izan zenean zekarren modernitateak izan zuen efektu erreala zein izan zen ezagutzeko, bai eta gerora efektu horrek jarraipenik izan duen ikertzeko ere.Miranderen ipuin-berriaren modernitate literarioa ezaugarritu eta euskal literaturaren historiografian kokatzeaz gainera, aztergai den modernitate literarioaren balio kontrakulturala testuinguruan aztertzeko beharra azaleratu da, historiografiari dagokionez. Testuinguratze horretan, berebiziko garrantzia du zentsuraren teoria berrien joera kritikoak jarraituz garaian garaiko eta tokian tokiko zentsura indarrei erreparatzea, eta hori da, hain zuzen ere, euskal klasiko hau ulertzeko eta gaurkotozeko egin dena.
Cette thèse caractérise la modernité littéraire de l'écrivain basque l'écrivain parisien Jon Mirande (H) aur besoetakoa, dans le but de déterminer la (les) place (s) de cette œuvre littéraire dans l'histoire et l'histoire de la littérature basque.
Fichier principal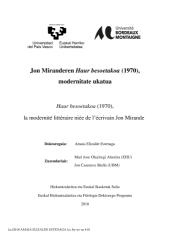 TESIS_ELIZALDE_ESTENAGA_AMAIA.pdf (15.97 Mo)
Télécharger le fichier
Origin : Files produced by the author(s)