Financial inclusion and deprived populations: effects of financial services' business models in France.
Inclusion financière et populations précarisées : effets des business models des services financiers en France
This research was conducted in order to contribute to the enrichment of knowledge onfinancial inclusion. Starting from the premise that the sustainability of a business depends onits economic balance, whether built on the basis of private, public or mixed resources, wequestioned the relationship between financial inclusion and deprived populations focusing onthe effects of the financial services' business models, limiting ourselves to the French market.We demonstrate that despite a French regulation, seemingly protective for consumers andinclusive-oriented, current banking models maintain exclusion. Improving the conditions ofaccess to and use of financial services by insecure people is conditioned by developments thatthe market alone cannot organize.We conclude further that measures tested by the Government or the voluntary sector to fightagainst banking exclusion do only match the needs of excluded people for certain profiles, incertain contexts. Moreover, the assumption of the sustainability of their business modelscannot be confirmed.Finally, we argue and justify that, as regards financial services, a sustainable and inclusiveeconomic model is conditioned by socio-economic transformations. The first one refers to theformalization of the access to the currency as a service of general interest, the second onecomes from the rehabilitation of the value of savings.Financial inclusion is not intended to address the problem of resource level, but consideringthe finding of recurring liquidity credit needs, it progresses when offers that avoid damagingthe living conditions of the borrower are spread. This is the objective of the proposed model.
Esta investigación se realizó con el fin de contribuir al enriquecimiento de los conocimientossobre la inclusión financiera. Partiendo de la premisa de que la sostenibilidad de una empresadepende de su estabilidad económica, que ésta sea construida sobre la base de recursosprivados, públicos o mixtos, cuestionamos la relación entre inclusión financiera y poblacionesdesfavorecidas en términos de efectos de los modelos de negocio de los servicios financieros,limitándonos al mercado francés.Se demuestra que a pesar de una legislación francesa aparentemente protectora para losconsumidores y a finalidad inclusiva, los modelos bancarios actuales mantienen la exclusión.Mejorar las condiciones de acceso a y de uso de los servicios financieros por parte de laspersonas en situación de precariedad está condicionado por evoluciones que el mercado por sísolo no puede organizar.Concluimos además que los dispositivos públicos o asociativos experimentados para lucharcontra la exclusión bancaria sólo coinciden con las necesidades de los excluidos para ciertosperfiles, en ciertos contextos. Por otra parte, la hipótesis de la continuidad de sus modelos denegocio no se puede confirmar.Por último, se argumenta y justifica que en lo que se refiere a los servicios financieros, unmodelo económico sostenible e integrador está condicionado por transformacionessocioeconómicas. La primera se halla en la formalización del acceso a la moneda como unservicio de interés general, la segunda procede de la rehabilitación del valor de los ahorros. Lainclusión financiera no pretende resolver el problema del nivel de recursos pero, considerandoque las necesidades de crédito de liquidez estén recurrentes, se mejora cuando se difundenofertas que evitan influir negativamente en las condiciones de vida de los deudores. Este es elobjetivo del modelo propuesto.
Ce travail de recherche a été mené afin de contribuer à l'enrichissement des connaissancesrelatives à l'inclusion financière. Partant du postulat que la pérennité d'une activité estconditionnée par son équilibre économique, que celui-ci soit construit sur la base de moyensprivés, publics ou mixtes, nous avons interrogé la relation entre inclusion financière etpopulations précarisées sous l'angle des effets des business models des services financiers, ennous limitant au marché français.Nous démontrons qu'en dépit d'une réglementation française apparemment protectrice pour leconsommateur et à visée inclusive, les modèles bancaires actuels entretiennent l'exclusion.L'amélioration des conditions d'accès et d'usage des populations précaires aux servicesfinanciers est donc conditionnée par des évolutions que le marché seul ne peut organiser.Nous concluons de surcroît que les dispositifs publics ou associatifs expérimentés pour luttercontre l'exclusion bancaire ne correspondent aux besoins des exclus que pour certains profils,dans certains contextes. De plus, l'hypothèse de pérennité de leurs modèles économiques nepeut être confirmée.Enfin, nous avançons et justifions qu'en matière de services financiers, un modèleéconomique soutenable et inclusif est conditionné par des transformations socioéconomiques.La première tient en l'officialisation de l'accès à la monnaie en tant que serviced'intérêt général, la seconde procède de la réhabilitation de la valeur de l'épargne. L'inclusionfinancière n'a pas vocation à résoudre le problème du niveau des ressources mais, au constatde besoins récurrents en crédit de liquidité, elle progresse lorsque se diffusent des offres quiévitent de détériorer les conditions de vie de l'emprunteur. Tel est l'objectif du modèle quenous proposons.
Fichier principal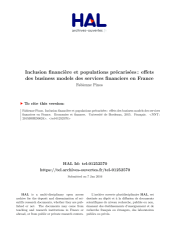 PINOS_FABIENNE_2015_CORR.pdf (7.63 Mo)
Télécharger le fichier
Origin : Files produced by the author(s)