Government measures to reduce CO2 emissions in freight transport: What are the impacts on SMEs?
Dispositifs gouvernementaux visant la réduction des émissions CO2 dans le transport de fret : quels impacts sur les PME ?
This article explores the behaviour of small- and medium-sized enterprises (SMEs) regarding mandatory and voluntary measures established by the French government to reduce carbon dioxide (CO2) emissions generated by freight transport operations. Through semi-structured interviews with fourteen SMEs (five shippers, eight carriers and a consultant) located throughout France, this research examines the integration of sustainable development into organizational and decision-making practices since the introduction of these programmes on the French territory. Our qualitative study suggests that active environmental implications stem mainly from the company's internal dynamics, driven by its management, as well as end customers' expectations. The voluntary policies seem to appeal more to SMEs than the mandatory measures implemented since 2013. This research shows that the carriers surveyed are highly environmentally proactive, regardless of their size. It also sheds light on techniques that could increase the efficiency and widespread adoption of governmental measures, in particular through the increasing use of on-board telematics.
Cet article explore le comportement des petites et moyennes entreprises (PME) suite aux dispositifs obligatoires et volontaires mis en place par le gouvernement français pour réduire les émissions de CO2 générées par le transport de marchandises. Grâce à des entretiens semi-directifs réalisés auprès de quatorze entreprises réparties sur le territoire français (cinq chargeurs, huit transporteurs et un consultant), nous examinons la prise en compte du développement durable dans les pratiques organisationnelles et décisionnelles des PME depuis l'apparition de ces dispositifs. Notre étude qualitative suggère que les implications environnementales actives découlent principalement de la dynamique interne de l'entreprise, pilotée par sa direction, ainsi que des attentes des clients finaux. Ce sont les démarches volontaires qui semblent séduire davantage les PME par rapport aux dispositifs obligatoires mis en place depuis 2013. Nous identifions une forte proactivité environnementale des transporteurs interrogés, quelle que soit leur taille. Notre travail apporte également un éclairage sur les techniques qui permettraient d'accroître l'efficacité et l'adoption des dispositifs gouvernementaux, notamment via une utilisation croissante de la télématique embarquée.
Fichier principal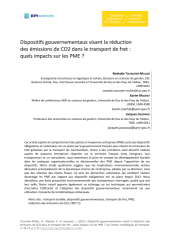 CST_78-79_01_TOURATIER (1).pdf (807.16 Ko)
Télécharger le fichier
Origin : Files produced by the author(s)
Licence : CC BY - Attribution