Price revelation and existence of financial equilibrium with incomplete markets and private beliefs
We consider a pure exchange …nancial economy, where rational agents, possibly asymmetrically informed, forecast prices privately, with no model of how they are determined. Therefore, agents face both 'exogenous uncertainty', on the future state of nature, and 'endogenous uncertainty', on the future price. At a sequential equilibrium, all consumers expect the 'true' price as a possible outcome and elect optimal strategies at the first period, which clear on all markets, ex post. The paper's purpose is twofold. First, it defines no-arbitrage prices, which comprise all equilibrium prices, and displays their revealing properties. Second, it shows, under mild conditions, that a sequential equilibrium always exists in this model, whatever agents' prior beliefs or the financial structure. This outcome suggests that standard existence problems, which followed Hart (1975) and Radner (1979), stem from the rational expectation and perfect foresight assumptions of the classical model.
Fichier principal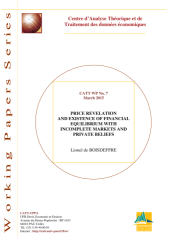 2014_2015_7docWCATT_Price_Revelation_Financial_Equilibrium_Incomplete_Markets_Private_Beliefs_LdeBoisdeffre.pdf (362.58 Ko)
Télécharger le fichier
Origin : Files produced by the author(s)