Low band-gap polymer brushes: Influence of the end-group on the morphology of core-shell nanoparticles
An efficient strategy is described to prepare electron donor/acceptor hybrid nanoparticles by anchoring a low band-gap polymer onto zinc oxide spheres. Functional macromolecules, bearing triethoxysilane or catechol terminal groups, were synthesized by polycondensation, using a ternary blend reaction, i.e. mixing two monomers and an end-capper. Importantly, and in agreement with Carothers theory, the amount of end-capper allowed to control the chains molar mass. ZnO spherical nanoparticles were then grafted with the polymer chains and TEM images confirmed that core@shell materials were formed. The surface morphology of these hybrid materials was anchoring agent dependent. When silane functionalized polymers were used, cross-linked aggregates were obtained due to competition between self-condensation of silanes and reaction with ZnO surface hydroxyl groups. On the contrary, well-dispersed core-shell particles were synthesized with catechol polymers as anchoring agents. This grafting onto methodology led to patchy nanoparticles on which both zinc oxide and polymer surfaces were accessible. The optical properties of the hybrid material were ascertained by UV–visible absorption and photoluminescence to show a specific quenching of the polymer fluorescence by the metal oxide.
Fichier principal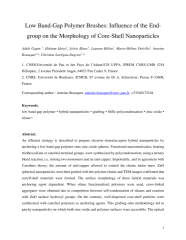 2020-103-submitted.pdf (1.36 Mo)
Télécharger le fichier
Origin : Publisher files allowed on an open archive
Comment : Principe de précaution - Embargo supérieur à la loi sur le numérique.