Le cromlech Méatsé 8 (Commune d"Itxassou, Labourd)
The cromlech Meatse 8, of 4,30 m in diameter, presents a crown showing the form of a small wall made of flagstones piled up, separated at regular intervals by others vertically, in radial position. The small central coffer made of 8 flagstones vertically planted, is surron-ded by an aggregation of small flagstones, having more an esthetic reason than to hold up. The care brought to the architecture, as well as the absence of objects, or of burned bones, make of this cromlech, which is besides the oldest known in the Basque Country (datation by 14C : 2960 ± 501, an excellent symbolic monument.
El cromlechc Meatse 8 cuyo diámetro es de 4.30 m., presenta una corona de losas amontadas, separadas a intervalos regulares, por otras, verticales, en posición radial. La cista central, formada por 8 losas hincatadas verticalmente, está rodeada de un conjunto de peque-ñas losas con un fin de estética más que de sostenimiento. Tanto el cuido llevado en la arquitectura, como la ausencia de mobiliario, o de huesos calcinados, hacen de este cromlech, por otra parte el más antiguo conocido en el País Vasco, (fechado al 14C;2960 ± 50), un mo-numento simbólico por excelencia.
Le cromlech Meatse 8, de 4.30 m. de diamètre présente une couronne affectant la forme d'une petite murette de dalles empillées, séparées à intervalles réguliers par d'autres, verticales, en position radiale. Le caisson central constitué de 8 dalles plantées verticalement est entouré d'un assemblage de dallettes ayant plus un rôle esthétique que de soutien. Le soin apporté à l'architecture, ainsi que l'absen-ce de mobilier ou d'ossements calcinés. font de ce cromlech, par ailleurs le plus ancien connu en Pays Basque, (datation au 14C: 2960 ± 50), un monument symbolique par excellence. GENERALITES 1. Situation. Contexte géographique Ce monument est situé au col de Méatsé, à 716 m. d'altitude, tout à côté de la frontière internationale entre les provinces du Labourd, et de Navarre. Le site est dominé par les sommets de l'Artzamendi, (926 m.) au Nord, et celui d'Iguski (844 m.) au Sud. II s'agit d'un ensemble montagneux proche des habitats de plaine, d'altitude modérée, d'accès aisé, qui a été de tous temps extrêmement favorable au pasto-ralisme, et sillonné de nombreuses pistes.-Coordonnées: Carte IGN 1/25000. Iholdy 5-6 295,440-1 15,05 Altitude 716 m. Commune d'Itxassou. Nº du site: 64-279.011/AH Parcelle C.650 Zone III, cadastre 1982. Lieudit Meatsé.
Fichier principal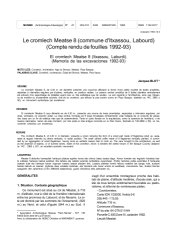 Le cromlech Méatsé 8 (Commune d"Itxassou, Labourd).pdf (571.41 Ko)
Télécharger le fichier
Origin : Publisher files allowed on an open archive