Community Development: Origins and Hybridization in Northern Ireland
This article will study the emergence of community development (CD) as a peacebuilding strategy in the 1970s in Northern Ireland. It will demonstrate that CD went through a successful hybridization process in the early 1970s. Hybridization refers to the process of cross\textendashfertilization between international peacebuilding activities and local practices. It takes place when peace activists locally reshape international models through everyday practices (Richmond & Mitchell 2011). In Northern Ireland, CD stands as a case in point as the initial model, which was conceived by the Colonial Office in order to empower local communities and elites in the colonies, was adapted to local circumstances by the members of the NICRC (1969\textendash1974) and was then readily adopted by community activists on the ground. This article will also demonstrate that CD was conceived as a peacebuilding strategy which tried to prevent the occurrence of violence in the late 1960s and early 1970s. Its promoters believed that CD could represent an alternative to violence as it was based on the needs of the community and sought to develop organisational skills.
Cet article propose d'étudier l'émergence de community development (CD) en tant que stratégie de construction de la paix dans les années 1970 en Irlande du Nord. Il démontre que CD a subi une étape d'hybridation au début des années 1970. L'hybridation fait référence au croisement entre les activités internationales de construction de la paix et les pratiques locales quotidiennes. Il a lieu lorsque des praticiens de la paix remodèlent des pratiques internationales en les adaptant à leurs défis et pratiques quotidiens (Richmond et Mitchell 2011). Le modèle original, conçu par le Colonial Office britannique en vue d'émanciper les élites locales dans les colonies, fut adapté en Irlande du Nord aux circonstances locales par les membres de la NICRC (1969–74) puis repris avec enthousiasme par les militants associatifs sur le terrain. L'un des objectifs de la stratégie de CD consistait à prévenir le recours à la violence localement en développant les compétences organisationnelles permettant in fine de répondre aux besoins des populations.
Fichier principal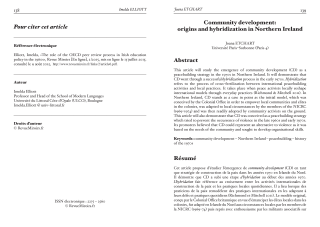 Miroirs_v2_2015_7_Etchart.pdf (164.03 Ko)
Télécharger le fichier
Origin : Publisher files allowed on an open archive